Visa Debit® cards at WGSB are very rewarding!
Visa Debit card holders at WGSB can earn points and get great stuff…just for using their debit cards! UChoose Rewards is available to all personal and business check card holders.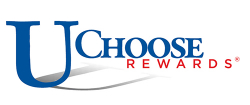 With UChoose Rewards, you can earn points every time you use your WGSB Visa Debit card to make purchases, in-store or online. In addition, you can earn points faster by earning extra points at participating merchants. And you can redeem points for your choice of an even bigger variety of merchandise, travel, event tickets, and gift cards. 
Features We Think You'll Really Like:

Earn points every time you use your card – double the points when you select 'credit'




Earn extra points when you use your card to make purchases at participating merchants




Browse WGSB's dynamic UChoose Rewards redemption website for the latest offerings, extra point options, and sale items




Get Quarterly Updates on your points via email when you provide an email address at registration



Register Your Card Manage Your Rewards
Don't have a WGSB Visa Debit card yet?

Call or visit your local WGSB office to apply for one today (some restrictions apply).
---
Visa Platinum Credit Card®
You chose to bank with Woodsville Guaranty Savings Bank for a reason...we're giving you one more. A Visa Platinum Card with everything you need.
Personalized Service - You have the support of Woodsville Guaranty Savings Bank.

Online access to your account at MyCardStatement.com


Call our specialized VIP Customer Service Department 24x7. VIP Customer Service 1-800-883-0131 



Reward Yourself – Would you like some gifts with your groceries? 

Perhaps a trip to the beach with your dry cleaning? With every Visa Platinum Card purchase, you can earn points toward your favorite rewards!
Earn one point for every net dollar in retail purchases.




Redeem points for merchandise, rental cars, cruises, hotels and airline travel with fewer restrictions and no blackout dates. There's no cap to how many points you can earn!



For a full list of ways your card can pay you back, visit cRewardscard.com and click on "Browse".

Worldwide Acceptance – If you're going across town or around the world, you'll enjoy more shopping, more fine restaurants, and more travel opportunities with your Visa Platinum Card because your credit card works at millions of places that accept Visa credit cards. Make your new Visa Platinum Card your constant traveling companion and you'll always have instant credit at your fingertips.

Security Programs – We take your security very seriously. That's why your Visa Platinum Card has multiple layers of cardholder protection that gives you an extraordinary level of security. You can feel confident no matter how you use it.

Verified by Visa - Activate your card for this service and create your personal password for online purchasing protection.




Zero Liability Policy - Your liability for unauthorized transactions is $0. Promptly notify us and you pay nothing.




Identity Theft Assistance - If you suspect that your identity has been stolen, call 1-866-ID-HOTLINE to get access to free and confidential assistance.




3-Digit Code - On the back of your Visa Platinum Card, you'll find a special 3-digit code (also called Cardholder Verification Value or CVV2), designed to provide an additional layer of internet and telephone fraud protection.



Travel Benefits – For protection while traveling, your Visa Platinum Card automatically provides you and your family with Travel Accident Insurance* and Auto Rental Collision Damage Waiver**

*Travel Accident Insurance - Coverage applies when the entire cost of the fare (less redeemable certificates, vouchers, or coupons) has been charged to the card. Your account must be in good standing. Restrictions to coverage may apply.
**Auto Rental Collision Damage Waiver - To activate coverage, complete the entire rental transaction with your card and decline the collision damage waiver coverage if offered by the rental company. Restrictions apply if you have personal automobile insurance covering this theft or damage.
This card is issued by TCM Bank, N.A. Subject to credit approval.

Call or visit any office of Woodsville Guaranty Savings Bank today for more details. 
---
Visa Purchase Alerts®
Know where your money is going. With Visa Purchase Alerts, you can take control of your card and enjoy greater security and convenience.
Enroll today to get real-time alerts whenever a purchase made with your card meets the criteria you selected during enrollment (1). Sign up to receive a text or email or both, as you like.
3 easy steps to enroll!
Visit the Visa Purchase Alerts website to check eligibility, register your mobile device(2), and choose the notification triggers that match your needs (ex. transactions that exceed a set amount or online purchases). Note that all Visa Debit cards from WGSB are eligible, and other cards may be too. Enroll all eligible cards to enjoy the greatest level of control.
(1) A qualified transaction is any transaction routed through Visa.
(2) Not all card issuers will allow cards for SMS message alerts. Message and data rates may apply.