Jason Achmoody & Michael O'Leary to Manage
WGSB's Hanover Business Lending Office
[Woodsville, NH: May 13, 2020] Daniel Stannard, Executive Vice President and Senior Lending Officer at Woodsville Guaranty Savings Bank announced the hiring of Jason Achmoody and Michael O'Leary as the commercial lending team for the bank's business loan office in Hanover, located at 17.5 Lebanon Street, over Four Seasons Sotheby's International Realty. 
Jason was hired as WGSB's Vice President and Upper Valley Market Manager and is responsible for servicing current commercial customers and building new relationships within the greater Upper Valley area.  Jason joins WGSB from Ledyard National Bank, where he served in a number of management positions, most recently as Vice President and Commercial Loan Officer in the Hanover area.  His banking career began at Chittenden Bank (now People's United Bank), where he advanced from a teller to a credit analyst to an officer and Assistant Market Manager.  Throughout his career, Jason has excelled at understanding the needs of his customers and making sound decisions that build trust. He and his wife, Leslie, reside in West Lebanon with their three school-aged sons. 
"Jason is a competent lender and a great team member," said Stannard.  "Approximately 20% of the bank's loan portfolio is made up of commercial and residential mortgage relationships in the Hanover, Lebanon, and surrounding area, so I am very pleased to have Jason in the market, serving and building relationships with the people and businesses of the region."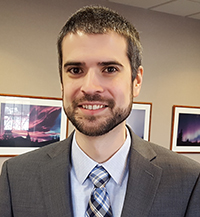 Michael O'Leary was hired as WGSB's Assistant Vice President and Senior Credit Analyst and will support the bank's commercial loan staff by analyzing financial data provided by business customers and making recommendations to best match the customer's goals with available financing options.  Mike joins WGSB from Bar Harbor Bank and Trust (formerly Lake Sunapee Bank), where he was Portfolio Manager and Senior Credit Analyst.  He has been a commercial credit analyst for seven years, with prior positions in the areas of finance and client services.  Mike and his wife, Amber, live in Etna with their four young children.
"While a large portion of Mike's banking career has been in supportive, behind-the-scenes roles, he is very client-focused and is a highly respected team member," said Stannard. "Our business customers will benefit greatly by the high-quality and expedited lending process that he'll be able to deliver."
The effectiveness of this new Hanover team has already been tested and proven.  Shortly after settling into the office, Jason and Mike were tasked with spearheading the bank's SBA Paycheck Protection Program (PPP) efforts. After receiving final guidance from the SBA very late on Thursday, April 2, Jason and Mike coordinated efforts with senior management, loan administration, and retail staff on Friday and over the weekend to build a bridge that could withstand the weight the program was bound to bring.
"At the height of the first round of loan applications, the management support Jason and Mike provided helped our commercial team process over 30 loans per day," said Stannard. "To date, the bank has submitted and processed 349 successful loans, totaling $31.5 million, helping to preserve 3,084 local jobs.  Our entire commercial team credits its efficiency and success with the PPP Program to the pivotal contributions of Jason and Mike. We and our business customers are fortunate to have them onboard."
Woodsville Guaranty Savings Bank is a New Hampshire state-chartered bank headquartered in Woodsville, with additional offices in Piermont, Lisbon, Littleton, Lancaster, Plymouth, and Franconia, and the loan production office in Hanover.
To contact Jason or Michael, call 800-564-2735 or Contact Us.