Meet some of our special friends! 
Melody & Mya Brown - Bethlehem, NH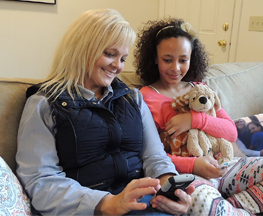 Melody Brown has a lot to smile about. She and her daughter, Mya, recently moved into a home of their own. Mya is a bright and energetic young lady, who loves school and dance, and dreams of being Miss NH. And Melody is successfully balancing multiple jobs, Mya's schedule and rehearsals, and everything else that goes along with being a single mom.
Melody loves WGSB's Mobile Banking, because she can check balances, transfer money, and pay her mortgage and other bills on the go - or from her new couch. If only unpacking and hanging pictures were that easy. 

Congratulations, Melody and Mya. You got this! 

Richard & Mae Borger - Wentworth, NH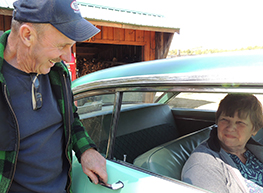 Richard and Mae Borger like to keep busy, which is easy when you have 4 children, 10 grandchildren, and 8 great-grandchildren. They also have 2 antique cars, like this '56 Ford Victoria, which can require as much love and attention as a child, especially when getting ready for a show.
The two have always worked hard to support and care for their family and, for 35 years and counting, they have trusted Woodsville Guaranty Savings Bank to help them do it. They appreciate the honest, hardworking people they have dealt with over the years and who have helped them balance everything during the ups and downs. They also like WGSB's Guaranty Tours program, for when they can get away. 

We'll always be here for you, Richard and Mae!

Barbara Serafini - Owner, Sugar Hill Sampler, Sugar Hill, NH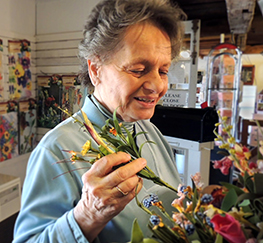 Seven generations of Barbara Serafini's family have lived on Sugar Hill, and she always wanted to honor that history, while creating something new. Sugar Hill Sampler is the realization of that dream. The popular tourist destination offers everything from delicious treats and beautiful quilts to unusual items, and features a museum filled with Sugar Hill and family memorabilia.
Barbara is a treasured member of the community, not just because of her business, but because of her willingness to help others and for her unforgettable personality. She's a busy lady, which is why she appreciates the personal service and attention she gets from WGSB. She also likes that she can pick up the phone and call the bank for balances and other questions about her account, because she's doesn't like computers much.

We're proud to be just right for all your needs, Barbara!

Mark Johnston - Owner, Exit 29 Sand & Gravel, Thornton, NH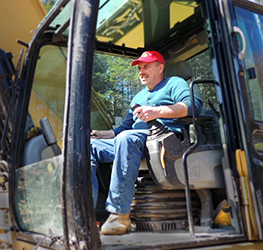 Mark Johnston is the owner of Exit 29 Sand & Gravel, a local gravel pit and his life's dream. After 30 years of business, he still enjoys waking up every day to all the successes and challenges his business presents, from hiring employees to purchasing new equipment. He'll do whatever it takes to satisfy his customers' needs and deadlines.
At work he drives an excavator. In his free time, Mark enjoys four wheelers, snow machines, and antique groomers. But when it comes to banking, he doesn't like a bumpy ride. So when his old bank told him he would have to work with three different people, he switched to WGSB. Mark likes to work with Richard Manzi in WGSB's Plymouth office and really likes that he can call one number and talk to someone who can help him right away.

We're happy to have you with us, Mark!

Ariana & Penn Howard - Littleton, NH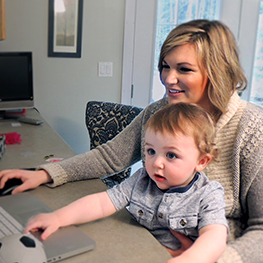 Having a toddler by your side and a baby on the way is a full-time job, but that hasn't stopped Ariana Howard. She works for her family's newspaper and is building a successful jewelry business, selling locally and online. 
She loves being creative, which helps her find creative ways to juggle her time. She also loves Woodsville Guaranty Savings Bank. Ariana likes the convenience of WGSB's online banking, because she can work and bank online at the same time, which helps her get more things done quickly. She also likes that she can visit the bank on her way to the grocery store to pick up dinner, or simply transfer money from her phone. No matter what, son Penn is always by her side.

Great job, Ariana. You really can balance everything!

Mike & Keith Kopp - Owners, North Country Ford, Lancaster, NH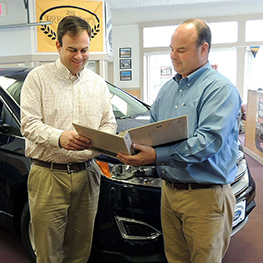 Keith and Mike Kopp are the third generation of their family to own and operate North Country Ford. While times have certainly changed since their grandfather opened the business, the values that guide them remain the same: fair deals, honest advice, and dedicated staff. As husbands and fathers, the values that guide them outside of work remain the same too: family, integrity, and community.
Keith and Mike chose Woodsville Guaranty Savings Bank. They appreciate that WGSB's people share their values, respect their goals, and want to help them succeed. They also appreciate that WGSB believes in them, which makes them feel pretty great.
We appreciate you too, Keith and Mike!